Is there a formula for success?
When teaching STEM, don't forget the "soft" sciences.
The need to overhaul America's approach to teaching Science, Technology, Engineering and Mathematics has launched an ambitious initiative to reverse our nation's decline in these areas. Not surprisingly, thought leaders in education indicate the most important ingredient to success is the willingness to change. They agree that it is pointless to continue pursuing methods that haven't been working and to change the teaching style to fit the learning styles of today's students and to better prepare them for solving tomorrow's challenges.
More specifically, educators and academicians at the forefront of improving America's performance in STEM subjects have approached their task in a way that's just as logical, practical and evidence-based as the subjects themselves. You can drill down ten pages deep into a search of "STEM," "successful STEM," or "STEM classroom" and what you'll find is study after study that evaluates and recommends pedagogies and teacher qualifications. While adapting those two areas has to be the two most important factors in the success of a STEM program in any school, other adaptations are called for, as well.
Consider the effects the classroom environment will have on the learning process.
To cement a school's commitment to project-based learning or collaborative learning or cooperative learning, its classroom environments must also change – and change quickly. Environments should be able to be reconfigured "on the fly" throughout the day. This change is necessary to support any new teaching method being instituted.
Start thinking in terms of three rooms. Room One, the Classroom: Here, students focus primarily on Math and Engineering subjects. Room Two, the Lab: Here, students focus primarily on Science and Technology – from robotics to chemistry. Room Three, the Commons: Here, students freely collaborate and learn from each other.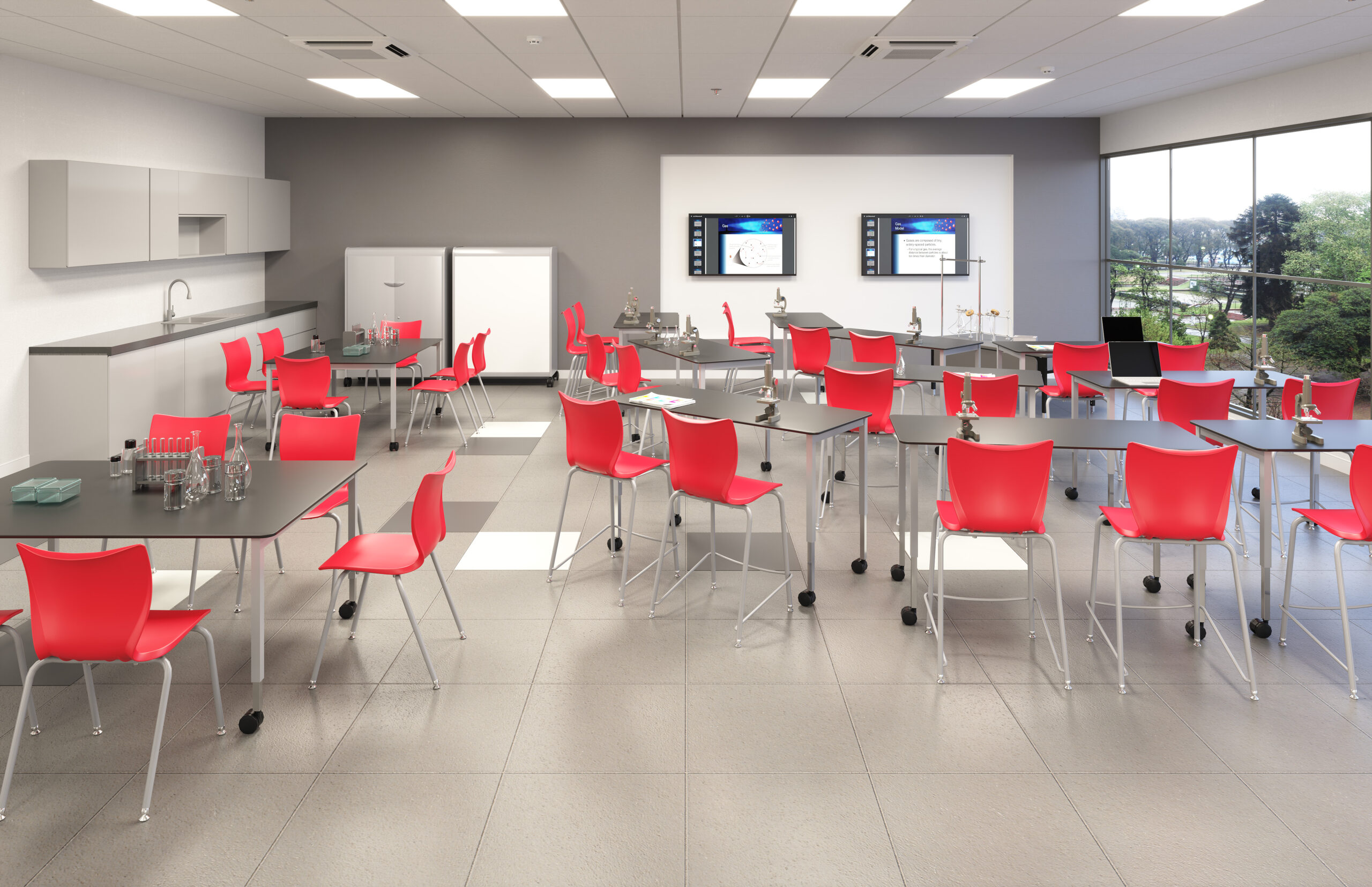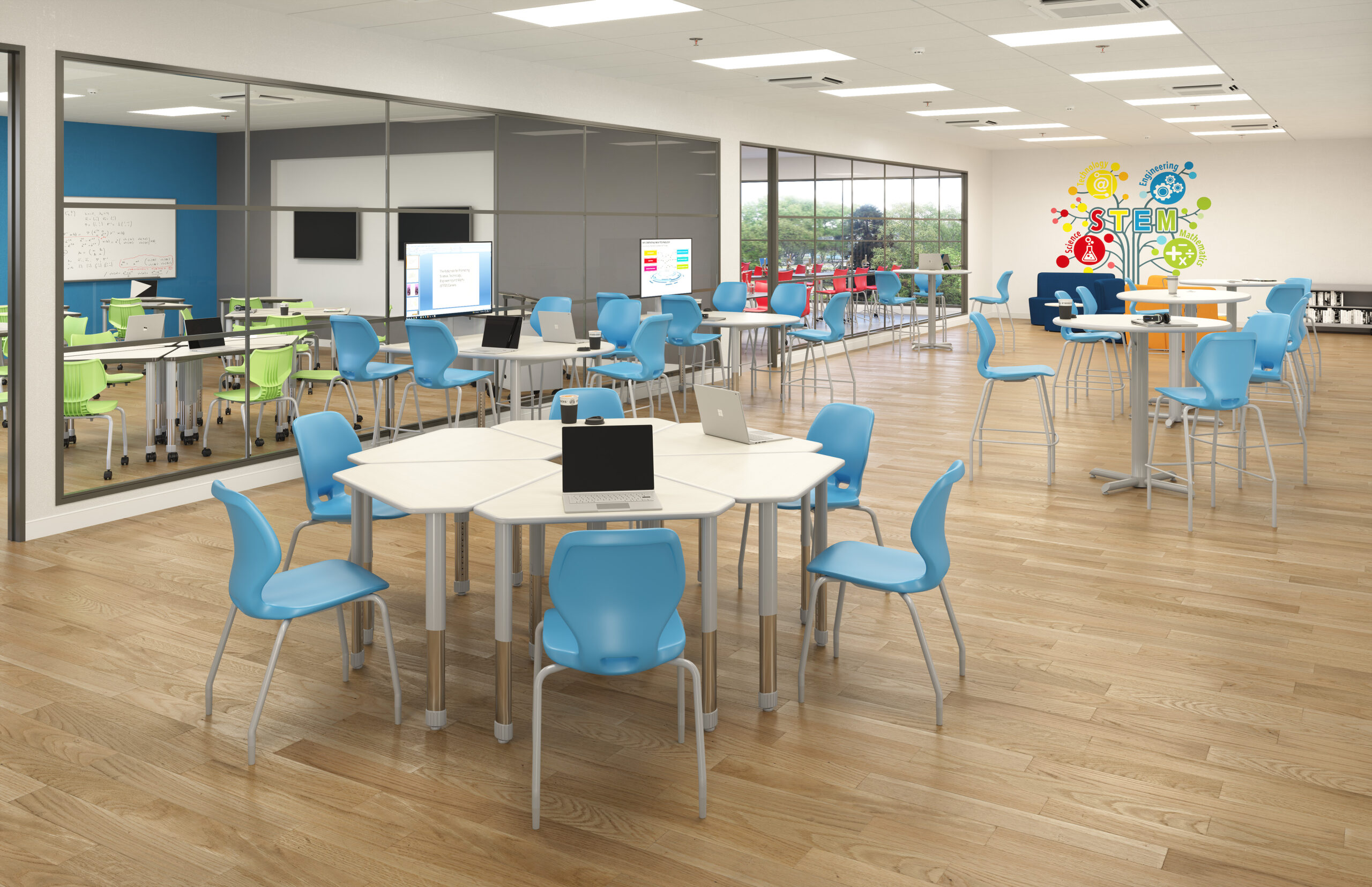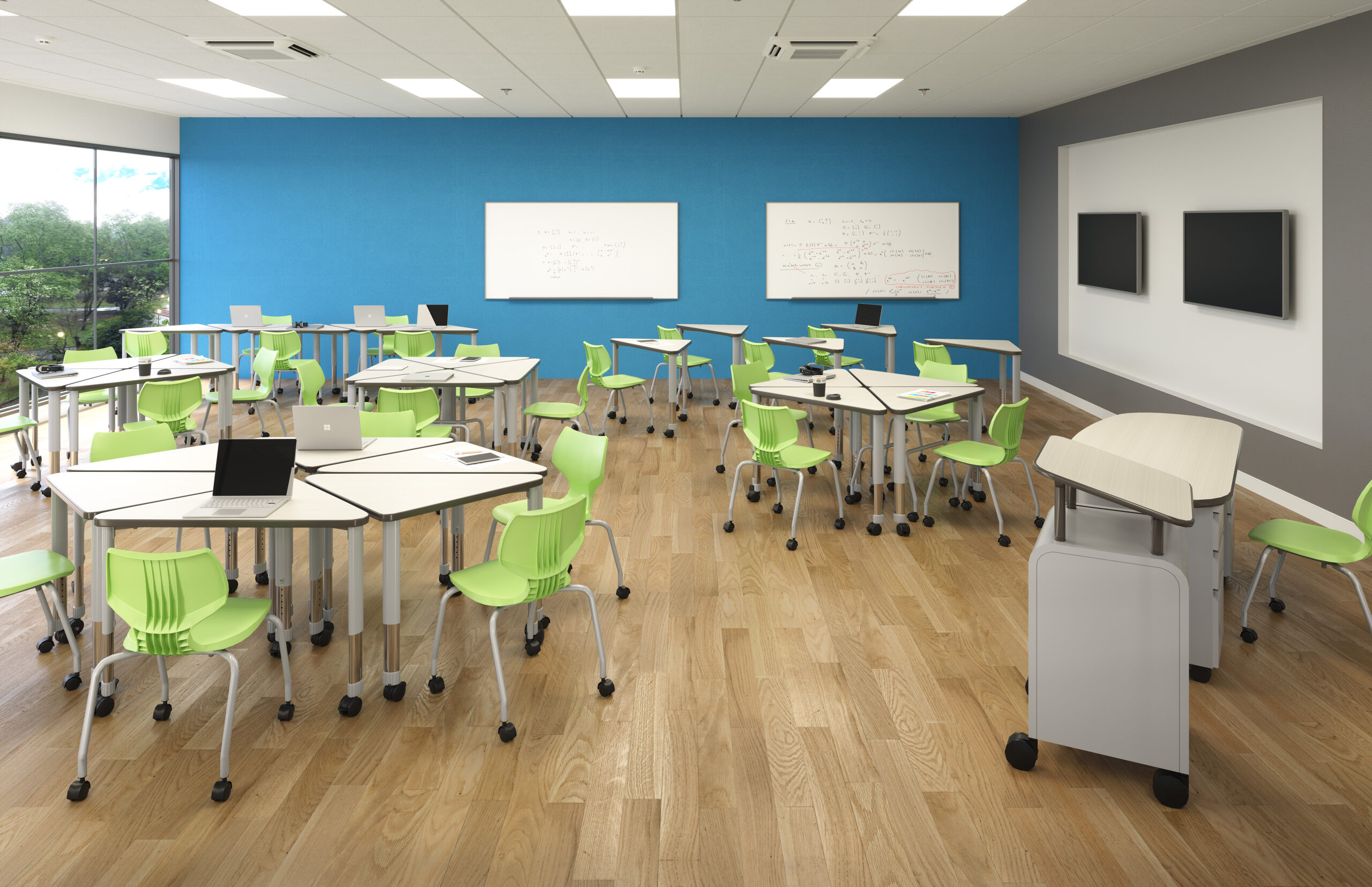 Add STEM-Friendly Furnishings
For maximum longevity, invest in furniture that is modular and sturdy.
The extra cost – and functionality – is worth it.
Seating.
The days of traditional, single-function classroom furniture are dwindling. The STEM classroom has students standing, sitting on stools, rolling on chairs, and casual lounging to collaborate. Above all, classroom seating must offer a range of movement, positions, and functions.
Desk and Tables.
Project-based learning requires desks or tables capable of being arranged into compact pods that fit six to eight students. Having the flexibility and ability to rearrange the desk for uses in multiple ways is key. For example, desktops that taper back to front (think pie shape) allow for a tight circle or individual arrangements.
Table design and materials have certainly expanded to accommodate STEM. Work surfaces can now stand up to chemicals and heat, and height varies, all without compromising a large work area and stability.
Storage.
Most of the student projects within the STEM environment will take place over more than one class period. It's essential to have space to safely leave or store in-progress projects. And, educators need mobile classroom storage for organizing hands-on project materials and tools, as well as mobile units to house projectors and computers for presentations.
Education Trend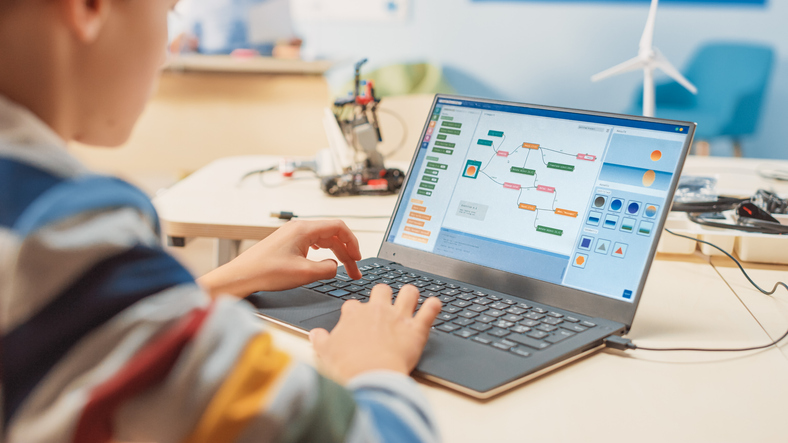 Kids Are Crazy for Coding
Whoever thought coding – and the people who do it – would be, well, cool? Educators are scrambling to catch-up. That means training teachers, finding resources, and building coding into classroom plans.
Read more
STEM Classroom Flythrough
No matter where you are in the STEM planning process, it's clear that STEM is here to stay.
Thought Starters
Need inspiration designing a STEM space?