Practical insights about furnishing one of the most creative spaces in the school.
Start by making spaces in the makerspace
The makerspace is an incubator for problem-solving, creativity, and collaboration. Here, the learning process starts with students identifying problems or needs. The next step is to conceptualize original objects to meet those needs. Ideas are discussed, evaluated, and modified before the design stage. Next, comes prototyping, testing, and finally, manufacture.
With this variety of activities taking place, often simultaneously, it makes sense to create spaces within the makerspace that accommodate quiet, individual work as well as group work and construction.
This variety of activities also calls for versatility from your makerspace furniture. It's fitting that designing and furnishing a makerspace is analogous to the projects the students undertake, just on a bigger scale.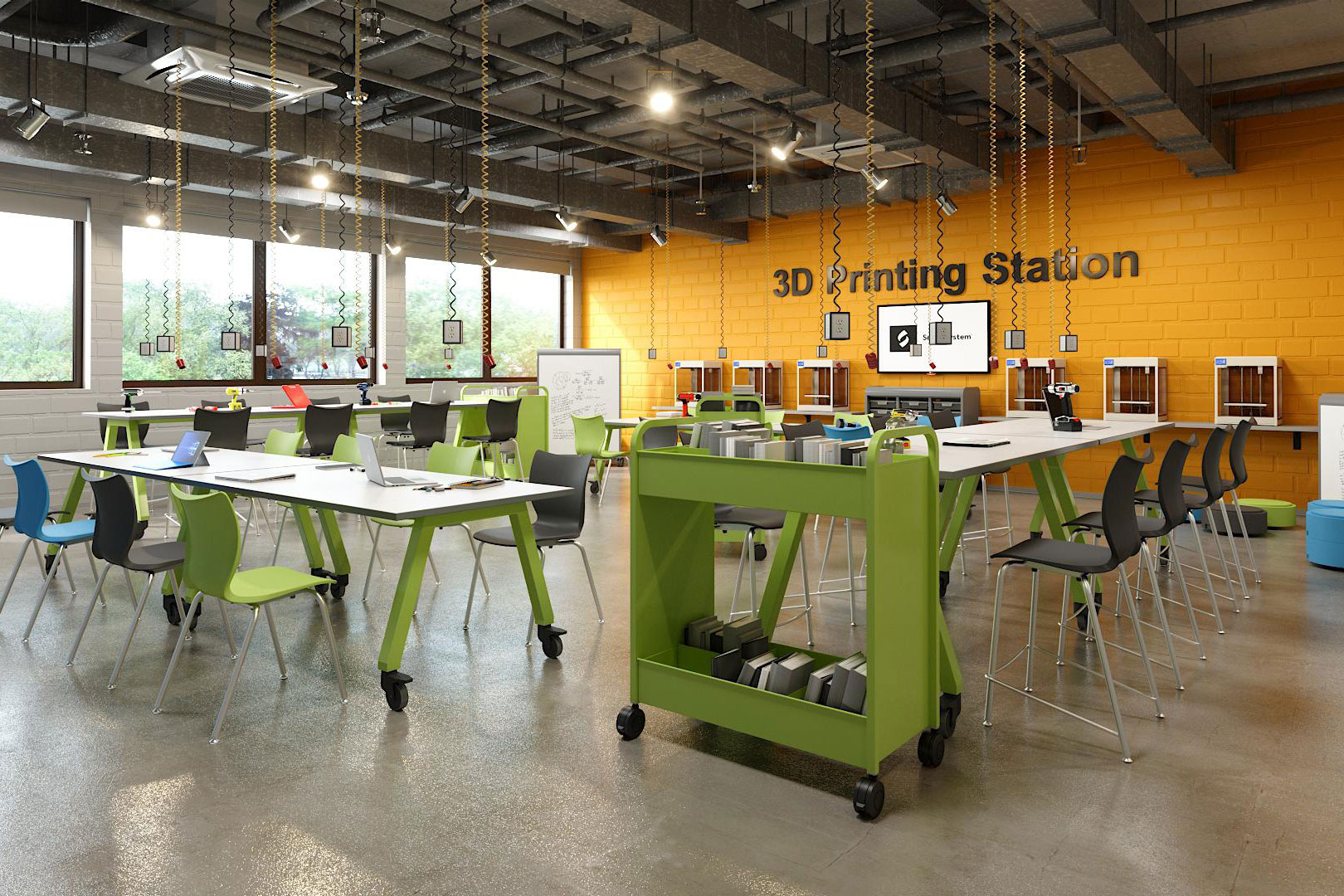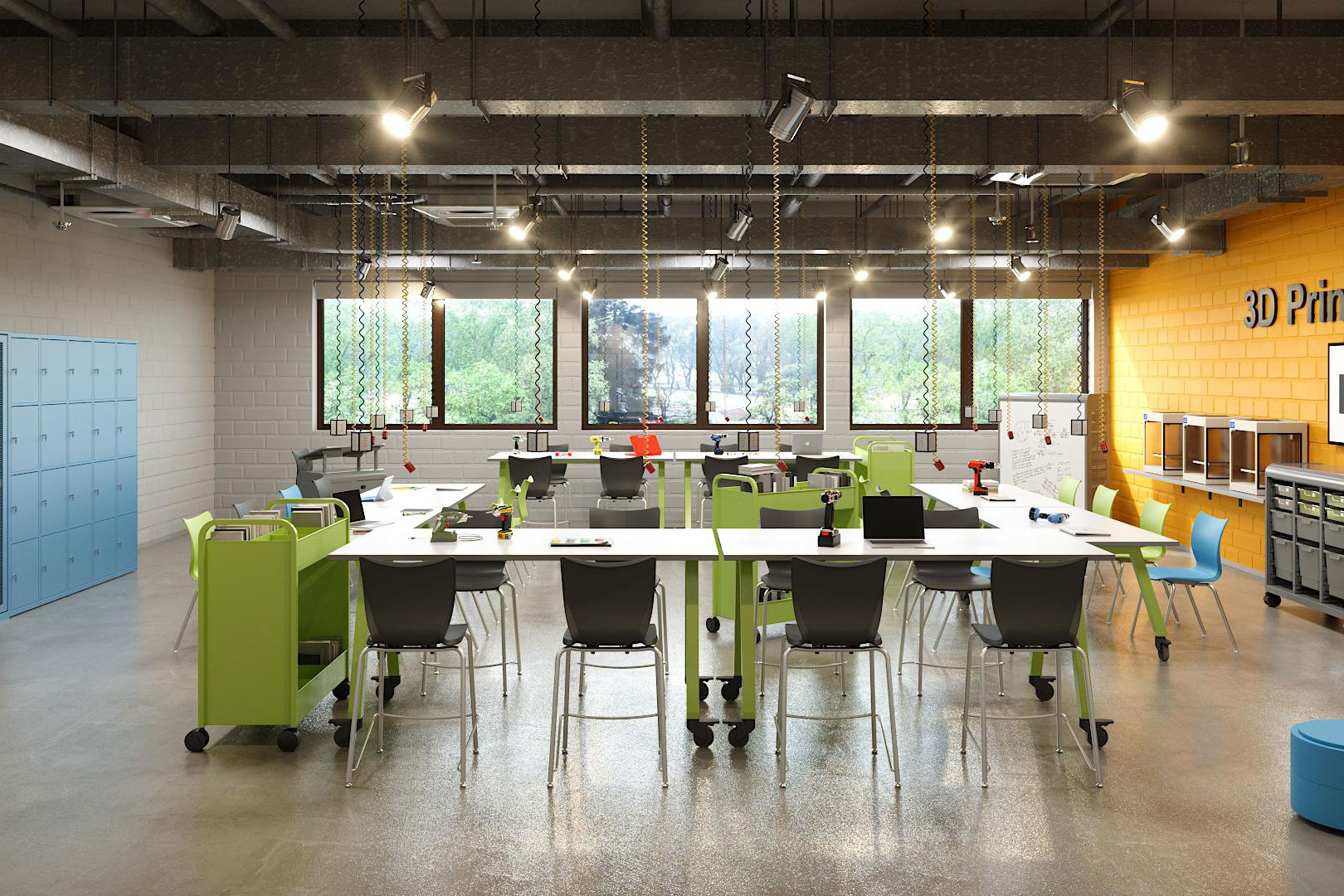 Considerations for working spaces in the makerspace
The successful makerspace starts with a map that divides the space into zones. Roughly, they divide into quiet, medium, and likely noisy. Naturally, it makes the most sense to separate the quiet and noisy areas. One helpful factor is that the makerspace, unlike other multi-functioning labs, has to accommodate a great deal of storage of raw materials, tools, and projects. Therefore, strategically placed classroom storage can serve as a buffer between different zones. Also, working areas need to offer students plenty of elbow room so they have adequate space for their materials and projects.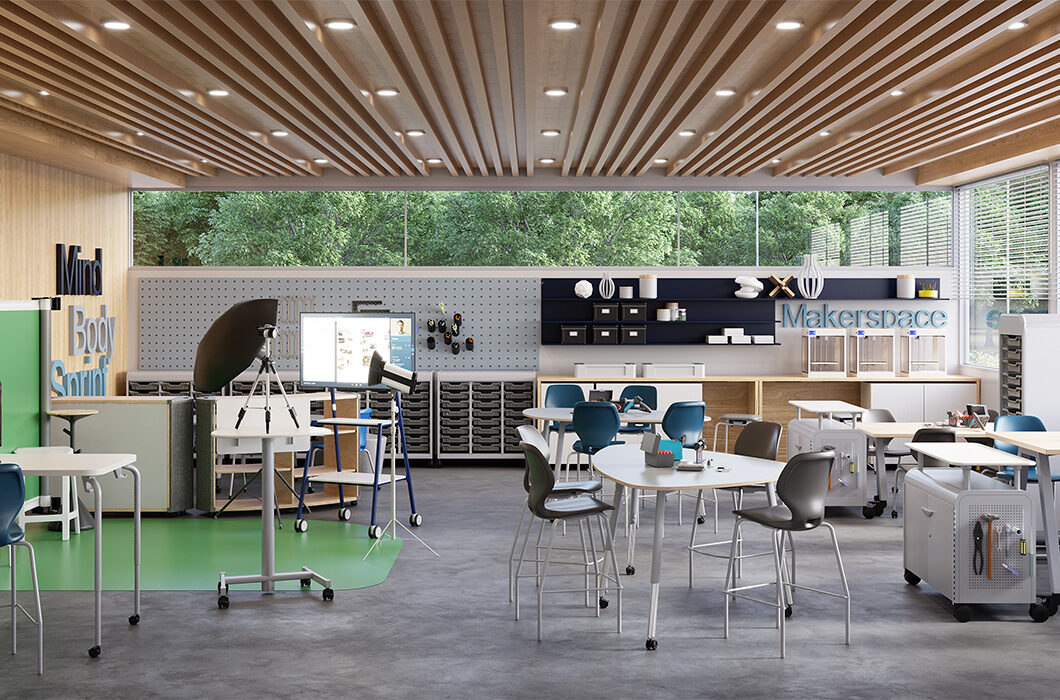 Containing the clutter (storage & logistics)
The nature of Making requires raw materials of all shapes, sizes, and descriptions which become projects of even greater size, complexity, and diversity. Here is where the challenge lies: at any given time, all of those pieces, parts, and partially completed projects can create utter chaos in the makerspace if it isn't properly managed.
Your best line of defense against this kind of disorder can be found in our Cascade® Storage line. It provides a system that corrals raw materials and student projects. Cascade®'s flexibility stems from its removable totes. They're available in a range of sizes that can accommodate an equally wide range of projects.
When the class period is over, Cascade® Totes can be securely stored in the Cascade® cabinets, freeing up the workspace for other students.
Transporting projects and materials in the makerspace
Moving items within the makerspace can be made easier with a versatile Everything Cart, featuring multiple bins or possibly a Flat-Shelved Booktruck. These indispensable vehicles on hand improve the makerspace experience by helping students access important projects and materials more quickly and easily. They also contribute to a tidier environment by helping students put away their projects and materials at the end of class.
(Art + Science) x School Kids' Imaginations = Need for Maximum Durability
Each offers an incredibly durable and damage-resistant Trespa® TopLab surface which can contribute longevity in the demanding makerspace environment. Their durability is built on strength. The Planner frame is basically a box constructed of square steel tubing. The Interchange frame has welded steel braces and a cross brace that runs the length of the table. Both lines also accommodate casters for mobility.
Equipping the instructor
The makerspace teacher is always on the go, performing roles as instructor and supervisor. In this environment, opportunities for demonstrations and teachable moments can come up at any time, so the instructor needs to be supported with mobile, versatile tools for presenting to students.
One invaluable aid for teachers is the Cascade® AV Presentation Cart. It securely holds AV equipment and other presentation materials while providing a mobile platform for presentations.
Cascade Mega TowerThe multi-functional Cascade® Mega Tower earns extra credit from educators for its versatility in a makerspace. Not only does it securely organize and store projects or materials, but it can also double as a presentation/communication center with its optional Whiteboard measuring well over 14 sq. ft. That's on top of its primary function as providing flexible storage for student projects and/or materials.
When it comes to teacher's desks, consider the options in the Cascade® line because they integrate with the Cascade® storage options and Presentation Cart.
Education Trend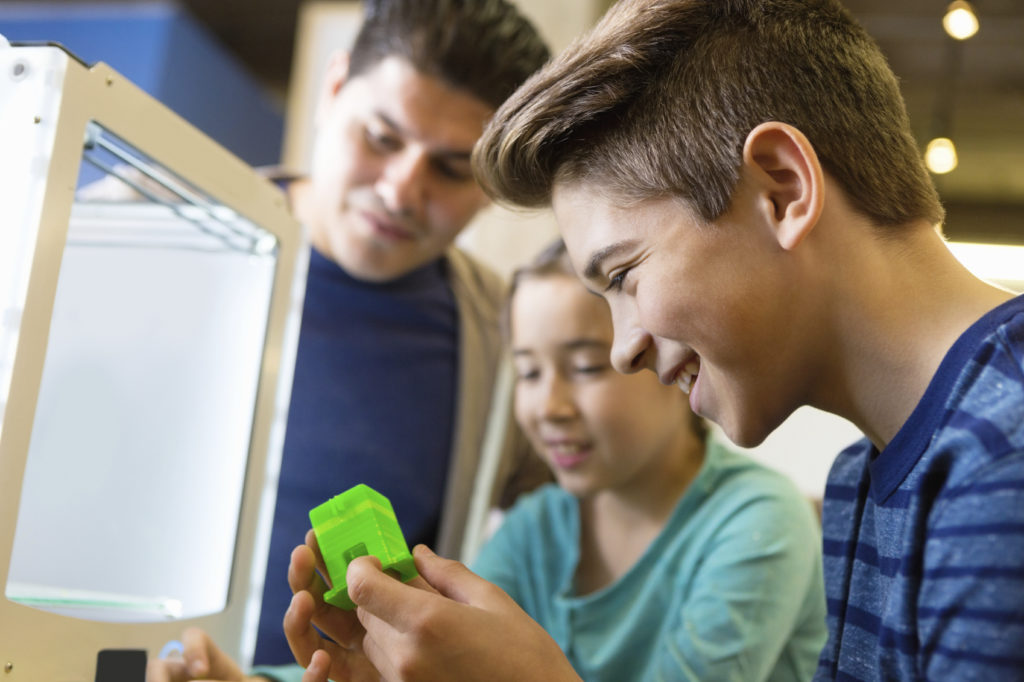 How Makerspaces in Schools Lead to Student Success
Given their experimental and innovative nature, Makerspaces in schools present an opportunity for teachers "breathe new life into their craft."
Read more
Thought Starters
Need inspiration designing a Makerspace?