A Shift in Classroom and Furniture Design Philosophy.
Designing the classroom around the curriculum.
A fundamental shift in orientation makes the 21st Century Classroom different from all that have come before it.
The shift comes from the widespread adoption of the Collaborative Learning curriculum. Classrooms in the 21st Century must support it because it will be the dominant model of education for the foreseeable future.
Collaborative Learning is different than traditional methods in two fundamental ways.
First, Collaborative Learning is student-centered, empowering the student to be an active participant in the learning process.
Second, Collaborative learning revolves around solving open-ended problems or creating some sort of a "product" which could be anything from a report, a poster, or a video. These projects give the students an opportunity to develop the widest range of learning skills.
The educational benefits of collaborative learning include:
Producing higher group and individual achievement, higher-quality
reasoning strategies, more and more new ideas and solutions to problems.
Developing higher-level thinking (not just recalling facts), oral communication,
self-management, and leadership skills.
Learning to confidently present and defend ideas, which increases the
student's self-esteem and responsibility.
Fostering growth in maturity and confidence on the parts of the learners,
because it promotes student-educator interaction and exposes the
student to diverse perspectives.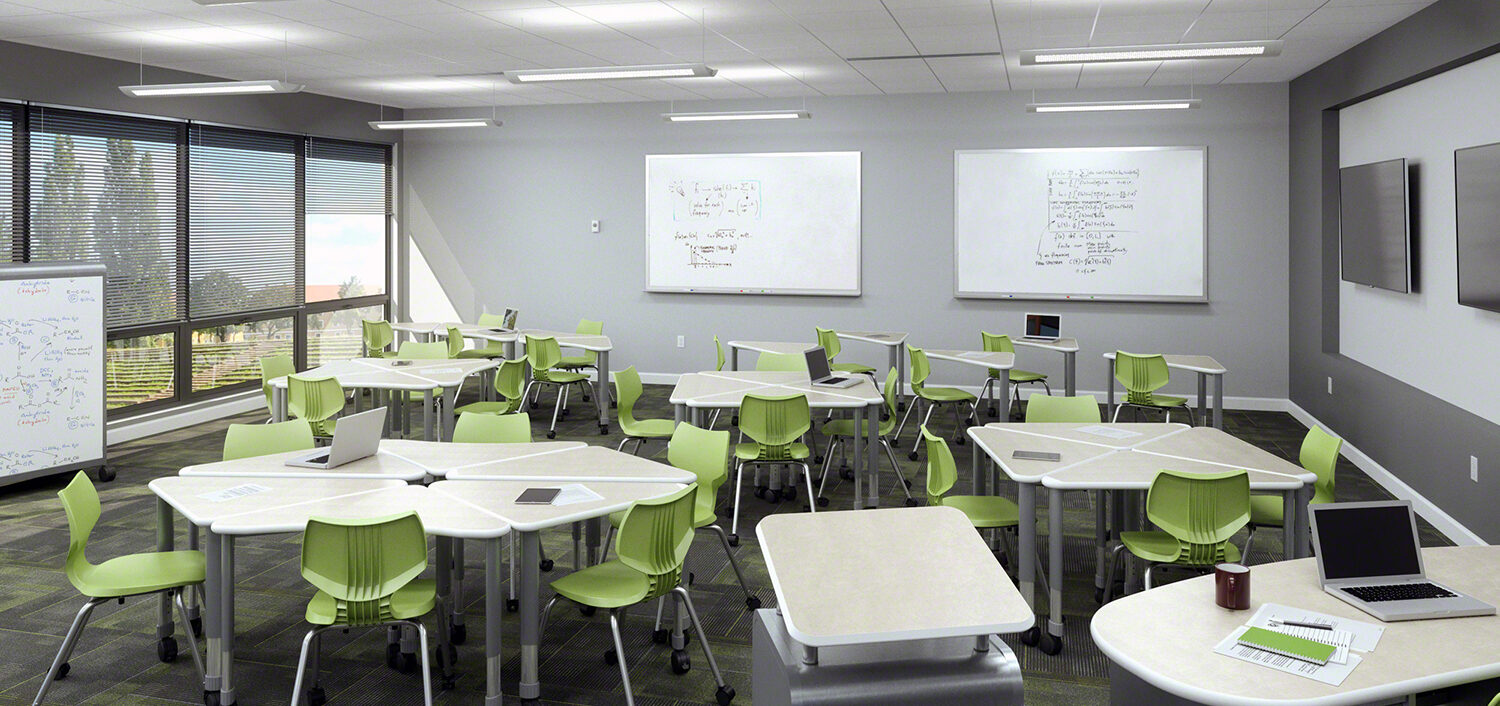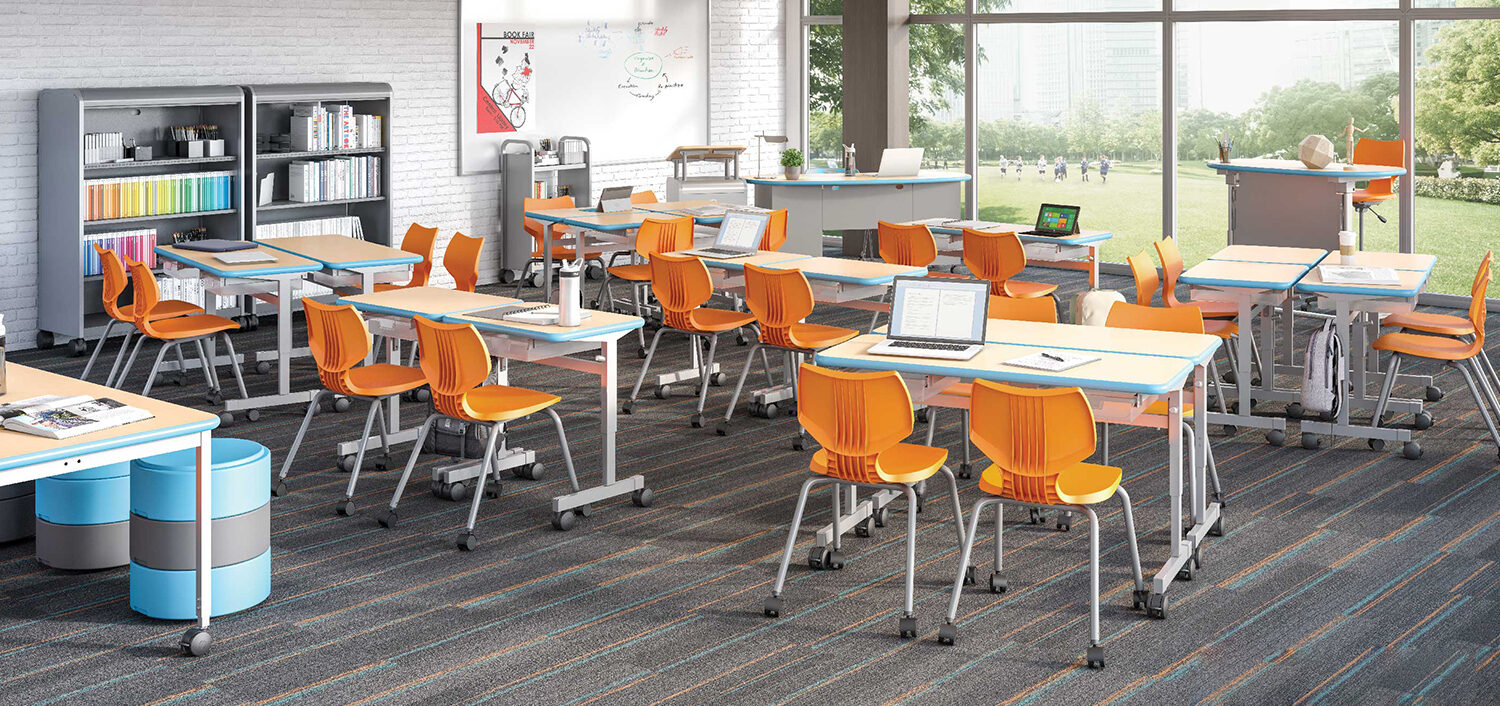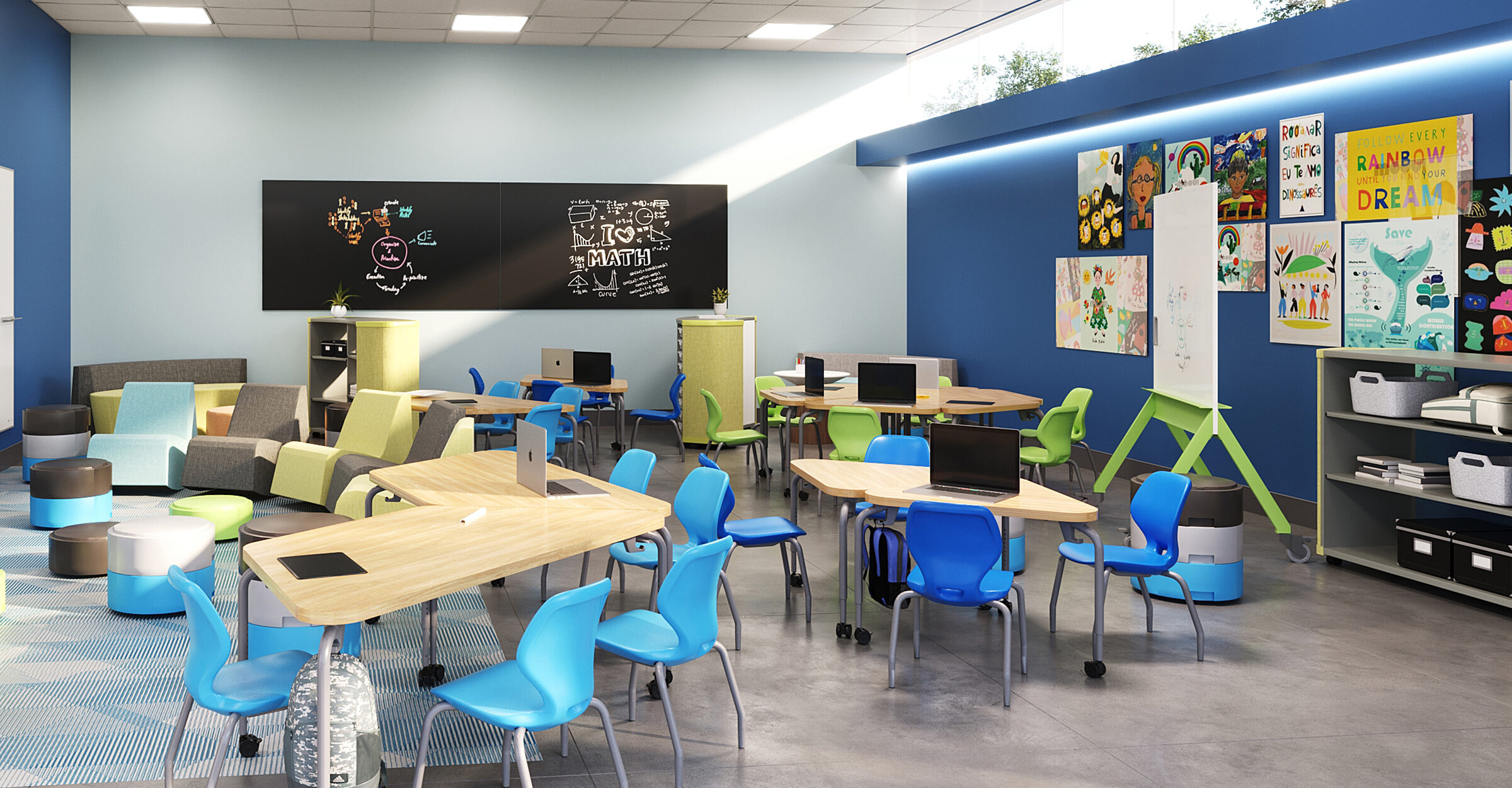 Classroom Furniture's Active Role in Learning Environments.
The classroom has evolved from a static physical space into a dynamic learning environment. What made this evolution possible is the combination of a better understanding of the way students learn and the ability to apply that understanding through more effective teaching methods. Naturally, as the teaching methods changed, so have the teacher's tools, including the classroom furniture.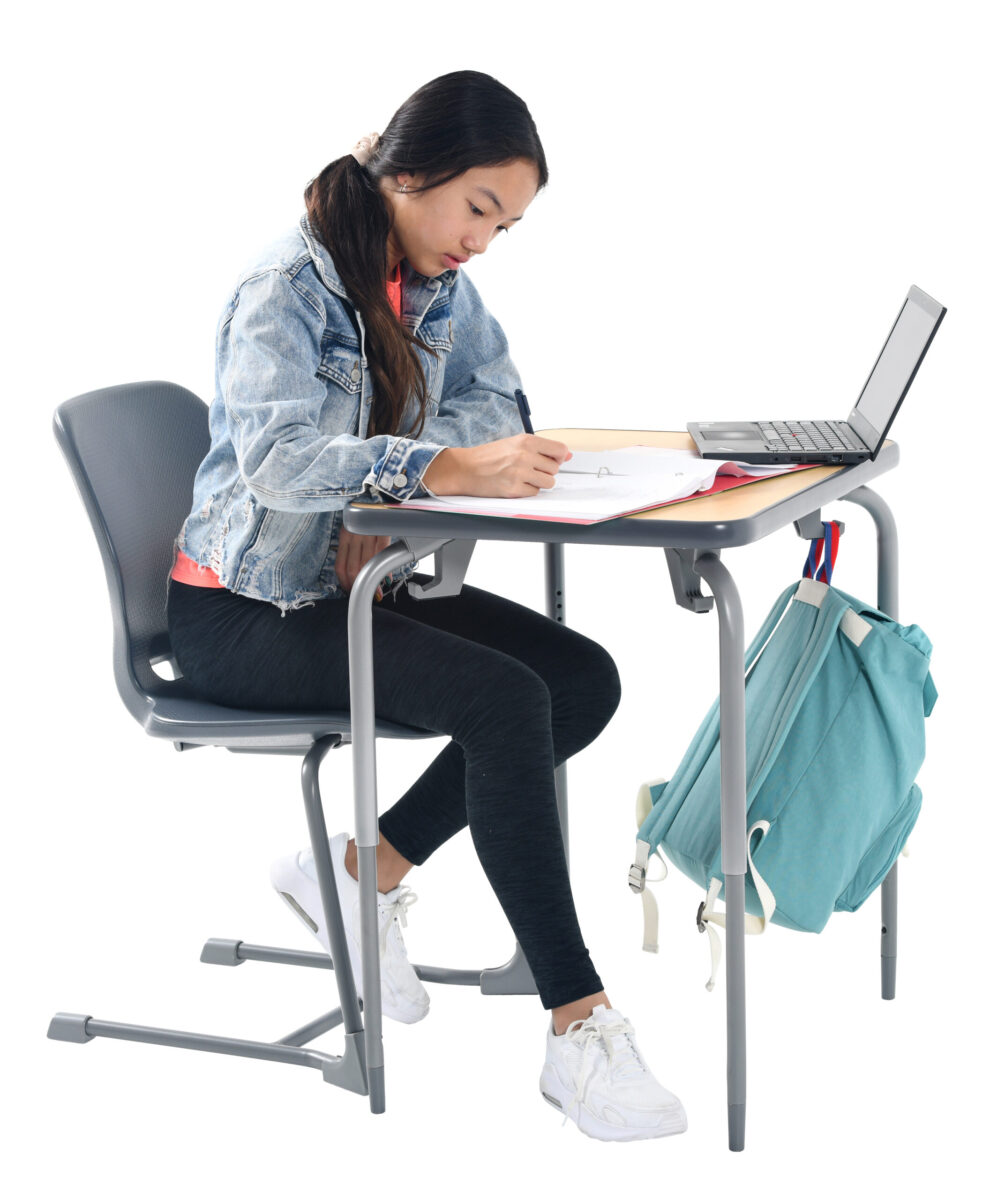 Even advanced desks don't move themselves.
Mobility is a crucial feature for furniture in a collaborative learning classroom. So, always consider optional casters for desks and tables. Without them, moving desks is a struggle for small students, and reconfiguring classrooms disrupts progress on lessons and projects.
Consider management of project materials.
The educator needs more tools to facilitate group and project learning. One invaluable resource is a cabinet that allows project materials to be sorted and stored for each group, distributed to the group when needed, then put away when finished. This is a valuable space for storing manipulatives, also.
Consider different learning modalities.
The 21st Century Classroom supports passive and active learning lesson plans. It eases the transition from lecture style to learner-led and teacher-guided lessons. The classroom makes use of analog and digital visual presentation technology.
Connectivity is key.
Whether they're working with tablets or laptops, students need the ability to connect with data and other resources. It is crucial for 21st Century Classrooms to provide students with both power as well as WiFi for their devices.
Education Trend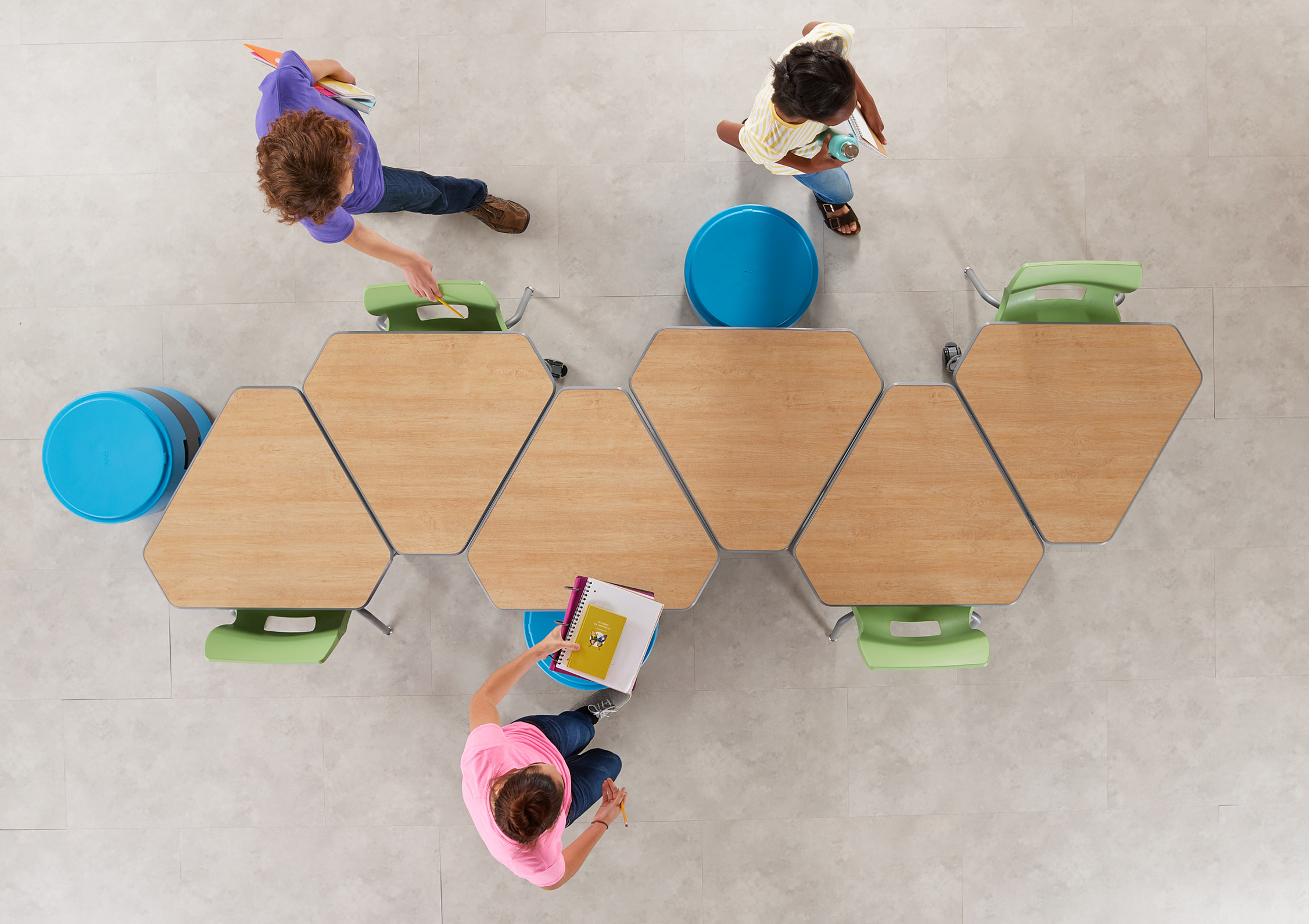 21st Century Classroom Round Table Discussion with Smith System Experts
21st Century Classroom represents a shift in the way in which students and teachers interact.
Read more
Wait a minute. Classroom furniture is a teaching tool?
The classroom furniture's design can help students learn (and teachers teach) in several subtle and not-so-subtle ways. Some of the more obvious ways are through meeting physical requirements like size, making sure the furniture is properly scaled to fit the size of the student. Classroom furniture that fits eliminates a distraction and helps students to concentrate. Recent studies indicate movement can contribute to concentration, and is considered beneficial to physical health. With Smith System® student seating, educators can allow varying degrees of movement.
Equally important, but slightly less obvious, is classroom furniture functionality – does the student's classroom furniture consistent with the curriculum? Because learning now often takes place in groups numbering from two to six students, classroom furniture has to have the ability to be configured in groups. This is largely determined by the design. Smith System® has long led the way in furniture for cooperative learning, enabled by innovatively shaped desk tops.
Ask any teacher: Classroom furniture creates an instant impression.
What kind of unspoken message does the classroom send to the student? At Smith System®, we've found the shapes and colors of classroom furniture go a long way toward making the environment welcoming, stimulating and engaging to the student. Classroom furniture is a physical point of contact between the student and the school. Smith System offers many choices, so your classroom furniture sends the right messages.
Thought Starters
Need inspiration designing a classroom? View our gallery of classrooms below.