A place for exchanging ideas and information, not just finding them.
Making the Library/Media Center an Innovative and Engaging Learning Environment.
In the Library Commons, students develop interpersonal, academic, and problem-solving skills while exploring new ways of learning. This combination is considered by leading educators to provide a richer and more dynamic learning experience for the students—an experience that has many parallels in today's workplaces.
The combination is a recurring theme in the Library. As a learning environment, it borrows and combines concepts from many stimulating non-academic environments and re-purposes them to create a place that attracts students, makes them want to research, collaborate and interact. Then it provides the resources for them to put everything they've learned into action (often in the form of a poster, printed booklet, or video).
The environments that successful Libraries draw from are diverse and dynamic. The best Library Commons have the laid-back feel of a coffee shop, expressed with comfortable lounge seating, café tables, and plentiful connectivity for the students' tablets and laptops. They stimulate group effort with collaborative areas that are reminiscent of contemporary architectural firms, design firms, or interactive media developers: think large work surfaces, open areas, and places where ideas and information can be easily accessed and shared.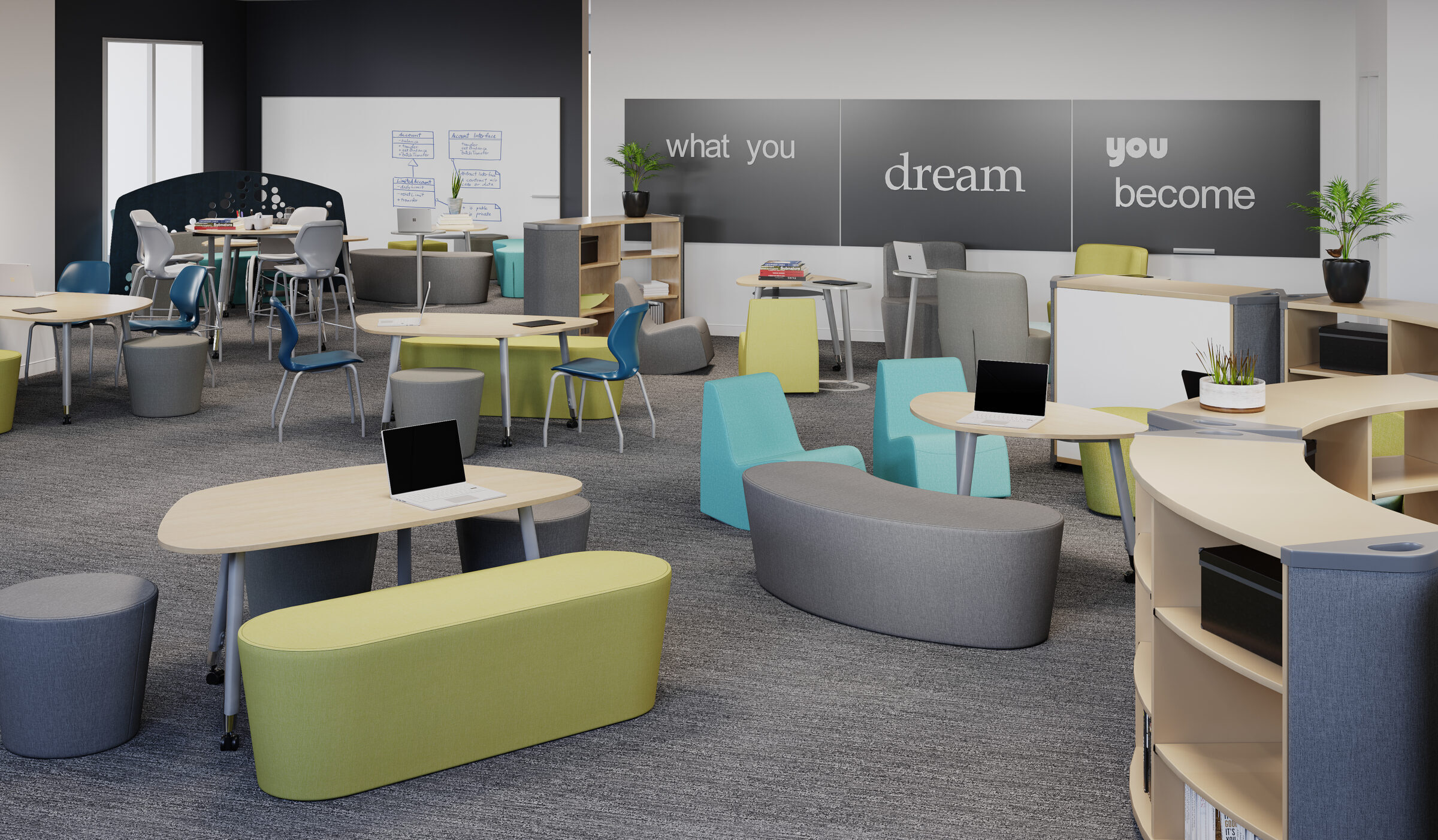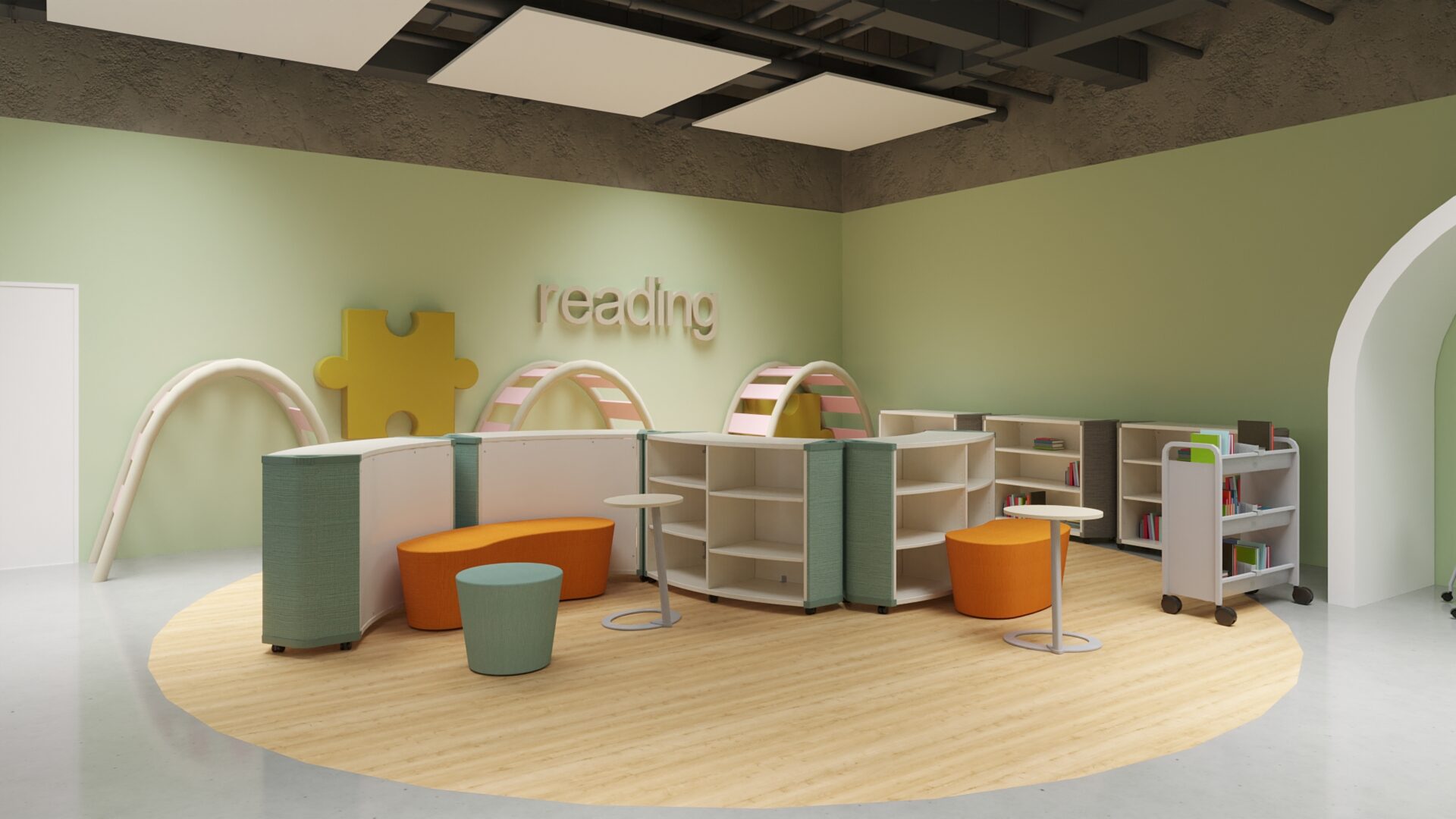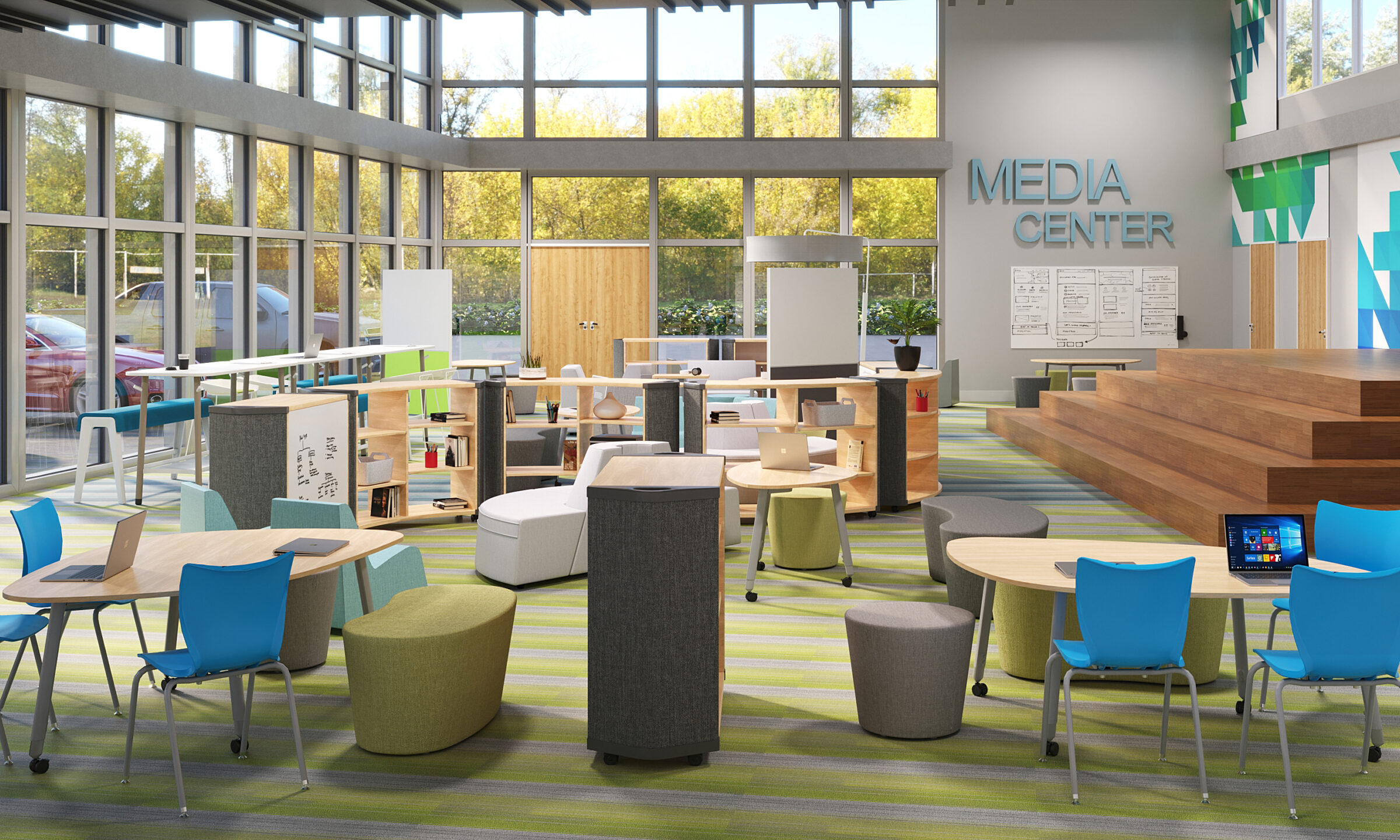 Furniture Considerations for the Library
Where to start? The Library is a working area, so practicality and aesthetics should be considered at the same time. A good starting place is to consider the kinds of study and activity that students will actually undertake in the Library and design areas within the space to accommodate them.
The two types of schoolwork that typically take place in the Library (or Library Commons) are collaborative learning projects and individual study. A third activity, graphics and video production, also often takes place within the Library Commons in a dedicated area. Each of these areas has its own requirements for furnishings.
Collaborative learning projects require group spaces where students can meet, exchange ideas, and brainstorm in addition to individual study areas where students can research specific topics their parts of the report. For these areas, look for furniture that offers flexibility: Smith System® lines have multiple collaborative desk offerings that allow students to work as different-sized groups as well as individually. All can be fitted with casters for fast, easy, and non-disruptive mobility.
Smith System® offers numerous seating options for the Collaborative Zone, including Flavors® Seating which allows the student to comfortably face front, back, and both sides to encourage interaction with his or her workgroup mates on either side. Its seatback also offers reduced resistance to the student who needs to twist to the right or left. Our Flavors® Chair directs the students more forward, but when equipped with casters, students can easily orient themselves to face their mates. This is also true for our Groove® Seating which allows the student to comfortably face front and either side without moving the chair and provides exceptional Euro-spec lumbar support.
This area is designed to promote student interaction by offering an informal and relaxing environment for students. Creating a second level of seating and interaction adds energy to Social Learning areas. A popular way to achieve that is with our Café Tables, paired with fixed height stools from our Flavors® or Groove® Lines. Several power options exist for these tables, also.
The Quiet Study Zone provides an area for the student to perform research or study independently for regular academic subjects. Our Flowform Learn Lounge Screens provide excellent individual study/research environments by minimizing distractions and focusing the student's attention. Seating options for this area can be taken from the same lines as chosen for the Collaborative Learning Zone.
In this area, students will often access reference materials from printed sources as well as online. To meet this need, we strongly recommend our Nomads. They combine the stability of traditional library shelving with the mobility of a booktruck. They'll need places to work alone gathering and evaluating information. They'll also need places where they can share this information and think with others in their group, where students will also work together to create the narrative for their report.
Media/Graphics Production, presentation and Storage
Often, the output of the students' collaborative projects is either a video, multi-media presentation, a poster, or document with enhanced graphics. The furniture needed to support the equipment needed to produce these end products can all be found in the Smith System® portfolio. An obvious starting place is our Cascade® Line. It satisfies all the table/desking requirements and can be customized to meet the specific needs of a graphics/video studio.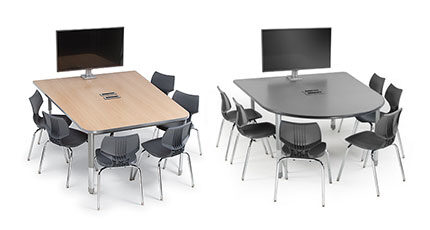 In the Library Commons, librarians won't be confined behind the reference desk. That's because, along with the evolution of the Library into today's Library Commons or Learning Commons, the role of the librarian has also changed. Along with this change comes a changed set of furniture needs. Today's "blended librarian" needs equipment and furniture to support the multi-faceted job of librarian, technical advisor, and educator.
In the Library Commons, the librarian will serve as a resource for students and will need a workspace that can support one or more desktop monitors. Planner® Desks are designed to be joined together in bays that both support the computer equipment and provide teaching space. Several great mobile options can be found in the Planner® Studio line. These desks are adjustable in height and can be raised so they accommodate work while standing.
Library Column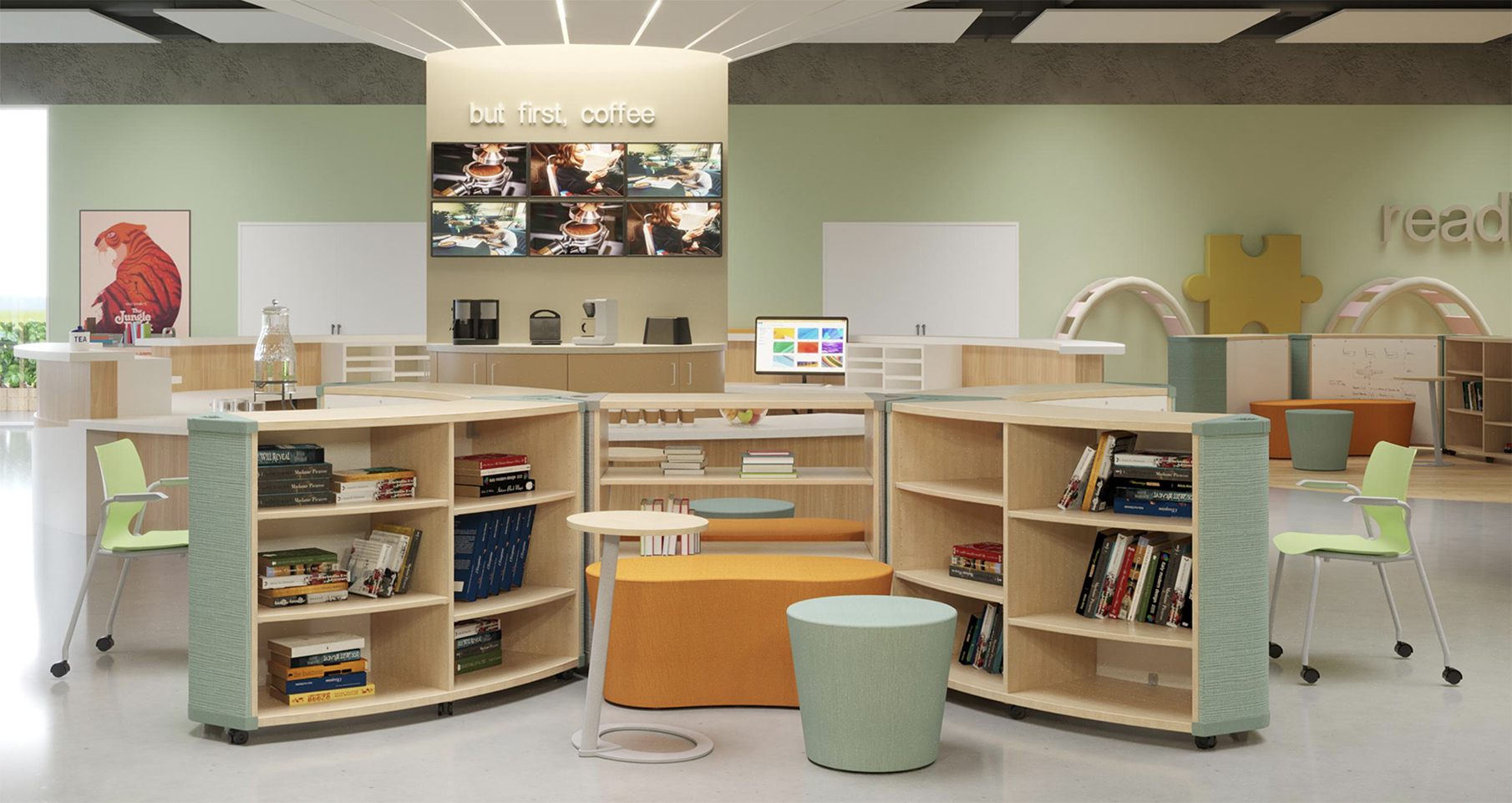 What Do Students Want in a 21st Century School Library?
All research points to creating K-12 libraries that are energetic, inviting space filled with students who are busy gathering information and exchanging ideas.
Read more
Thought Starters
Need inspiration designing a Library space?